Extended Family
K's Akitas and K's Tibetan Spaniels
We are very proud of our first generation of pups that we have bred here at Katura Kennels and their offspring.. Some of the pups are involved with Show Careers or with Pet Therapy but all are wonderful companions to their new families!
CH Moonlight K's Kiseki's Kall Girl
finished her championship with her second major on the Mission Circuit in CA. Vixen is
owned by Linda Logan-Kiseki Akitas/co-owned Moonlight Akitas. She is shown at 15 mos old winning WB/BOW/BOB at the Cabrillo Kennel Shows under Judge Dr. Emily! Vixen is our First Homegrown Champion here at Katura Kennels!!! Vixen has now earned points towards her Grand Championship and is now a Registered Service Dog.
NEWS UPDATE: Vixen had her first litter of puppies June 5, 2010, 3 males and 3 females. A very flashy litter of black/ white and all white puppies. Two of the pups are involved with showing in conformation, one is training for agility, another is training for Therapy work, two are wonderful companions. This is our first litter of grand pups!

K's Nomad Luna RN CGC Owned by James Wilkes of RaftTheSalt Rafting Co is enjoying his new home and career as the mascot for the company.. Atlas is litter mate to our Abbey and Aimee of Katura Kennels and Kuma who is shown below.
Atlas on the job with his owner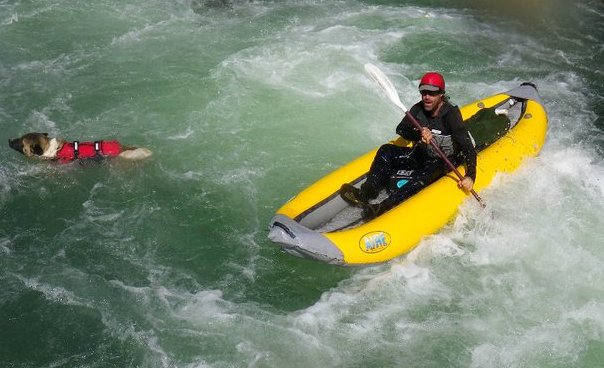 Atlas looking over the Salt River for the 2010 rafting season.

K's Keiko My Shadow owned by Geoff and Stephanie Simmons is out of Nikko's litter with Ch Challenge The Big Dogs. "Keiko is the most lovable pup ever and is really my shadow ." Keiko resides with an older Akita, Toshi, and they are the best of friends. She is litter mate to Mighty Kuma, Neko and Pearl.

Looks like Keiko not only likes the snow but likes the beach too!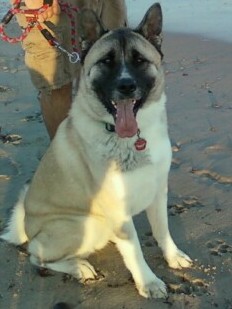 Looks like Keiko is a real "snow bunny!"

K'S MIGHTY KUMA BEAR is owned by by Ken and Christine. He is a power house of energy and resides with two other Akitas, Tekka and Kira. He is shown at nine months old going through the "teenage" stage of all legs. He will be a tall boy! Kuma is litter mate to Keiko, Neko and Pearl.

K's Neko Rough N Ready is owned by the Crain Family. He is shown here at 8 wks old. Neko is a very sweet boy but his name fits him to a T. He is litter mate to Keiko, Kuma and Pearl.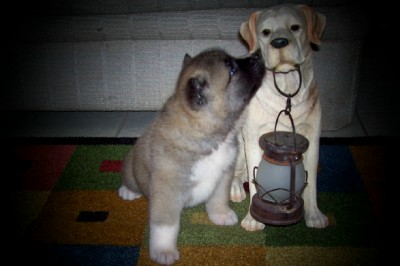 K's Artic Pearl "Pearl" is shown at 8 wks old, she is a very sweet girl owned by Cary. She is litter mate to Keiko, Kuma and Neko. Pearl's registered name was chosen because her owner works on the North Slope of Alaska.


K's Here Comes Trouble
"Ernie", owned by Dr. Daniel S and family, made his show debut the weekend of the Rocky Mountain Akita Club Shows in Loveland, CO on June 26 -29, 2008. Ernie is out of
UK BIS/AM CH Rossimon By The Boss AOM ROM
owned by Rusty Short and litter mate to
K's Smokey N The Bandit
"BoBandit" owned by Katura Kennels and
CH Moonlight Kiseki Kall Girl
"Vixen" owned by Linda Logan/C. Stanley. Ernie took a 3pt Major, WD?BOW, at the Rocky Mountain Specialty on Fri June 26. This was Ernie's first time in the ring handled by Chris Stanley. We are very proud of this boy! Ernie lives his family and two young children and is their guardian.


NEWS FOR SCARLET!!

Moonlight Scarlet Fire co-owned with Max F and Moonlight Akitas was bred to CH KumaKura's Most Wanted "Wyatt." and whelped a litter of 4 males 2 females very flashy puppies Nov 27, 2010. This litter produced our first second generation Champion. We are very excited about another one of Nikko's "girls" pups. Scarlet is a look a like of her dam Nikko and is litter mate to "Ed" shown below and our "Maxx" of Katura home of K's Akitas..
OFA: GOOD ELBOWS: NORMAL THYROID: NORMAL CERF: CLEAR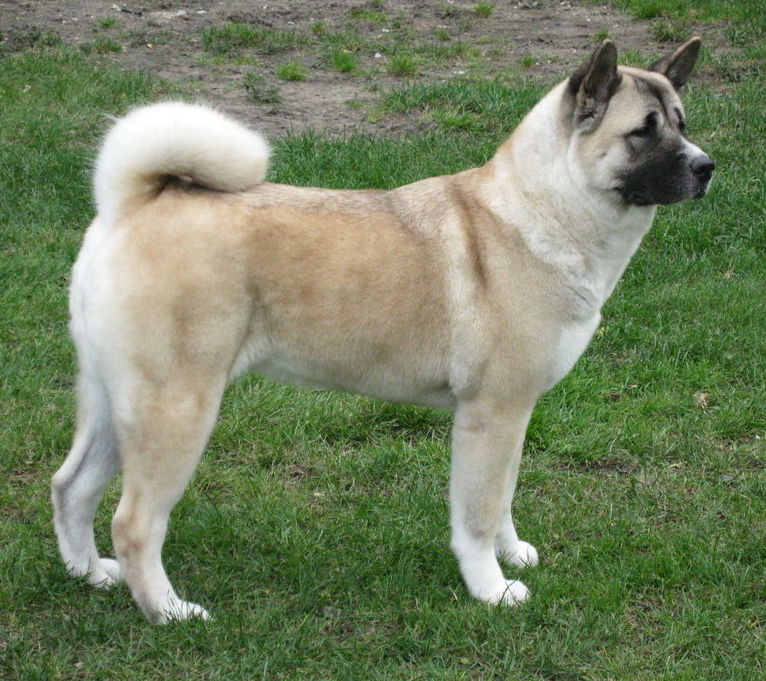 One of Scarlet's pups is shown at 4 mos old getting ready for the ring. He is now Ch Moonlight Grateful Dawg. "Jerry" is our first second generation Champion. See his photo on Katura Champion page.




K's Mr. Ed Moonlight Casanova
"Ed" is owned by Larry F. He is out of Nikko's first litter with
BISS Ch Breezewood Imarii HesTheMan
. Ed started his show career when he was just under a year old. He made his debut at the 2006 Akita National in Wisconsin where he placed second in the Akita National 2006 Futurity. He is shown here first in lineup handled by co-breeder Chris Stanley. Ed is litter mate to our Maxx at
Katura
Kennels and Moonlight Scarlet Fire. Thank you to Chrissy of Skyline Akitas for the photo. Ed was retired after this show to pursue a career as a Therapy Dog. He regularly visits the Veteran Hospital with his owner Larry.
"Ed" is now a Pet Therapy Dog. He visits our Veterans at the VA Hospital in North Chicago visiting over 40 patients in 2 hours each week in the Chicago area. He will soon start to visit the Children s Hospital in Chicago.